I am on my first work trip abroad for 20 months and it is so exciting. The return to 'in-person' meetings after what seems like a lifetime of being on Zoom and Teams is sheer bliss for many reasons. Not least experiencing again all that we took for granted but for so long has felt  like a distant memory, like using body language, sitting round an actual table, sharing cakes, buying a colleague a coffee, having a side conversation with the person sat next to you, smiling at someone across the table, to name but a few. While I agree with many colleagues that we managed very well during the pandemic and there are some advantages to meeting online – not least you can work more efficiently and have more meetings in a day, and you don't have to travel – I have sorely missed talking while being co-located and in-person; the conversations can meander and allow for sensitive and unexpected topics to be touched upon and explored in more nuanced ways. Also, I find it discombobulating to hop from one online meeting to the next in a matter of seconds barely any time to catch your breathe. Being 5 minutes late for a physical meeting is acceptable; being two minutes late for an online meeting and item 2 on the agenda is already under way! I like to walk between rooms where different meetings are being held to gather my thoughts and reflect on what was said, what was not said and what we might do next.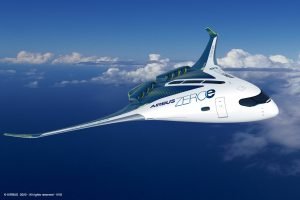 But it is more than meeting others in person. It is the travel I have also terribly missed – by whatever means of transport. Flying is a real treat. It has been very easy to feel smug about not using planes for nearly 2 years and how much reduced our carbon footprints have become. But for me travel has always been core to my job as an academic. I cannot do my job without it. So I am very happy to be able to travel again to foreign lands, sharing wisdom, ideas, and advice while listening to others. I am more than happy to travel by  slower means (i.e. by train) when it seems sensible, but sometimes it is necessary by plane when it is too far to do so. I live in hope that our engineers will build viable zero emission planes in the not too-distant future. Airbus is already on the case.
So, to Berlin it was for me this week to give a keynote followed by attending an in-person research meeting with many European partners I had not seen for eons. I arrived at the North Terminal in Gatwick on an autumnal Sunday evening. After a slick check in and a super fast security check, I walked through the labyrinth of brightly back-lit duty-free shops when my senses began to go into overdrive. Colours, sounds, logos, smells…bang, wallop, bang. Then, out into the even brighter lit terminal building, where I found myself drawn to more back-lit rainbow-colours – this time a new bar just opened with socially distanced bar stools around it. Before I knew it, I found myself perched on one of the empty stools, gazing intently at all the lovely different kinds of spirits evenly and artfully spaced in beautifully coloured bottles. I had forgotten how magical it is just to look at aesthetically pleasing and perfectly placed artefacts. I sat there for an hour nursing a drink just staring and enjoying people watching.
And then I surprised myself by asking a guy, seated at the next-but-one barstool to me, where he was flying to. He was so surprised that a stranger had spoken to him that he appeared rather startled. But then when he saw I was just being friendly he relaxed and regained his composure. We then started chatting merrily, just like in the pre-pandemic times, about this that and the other for a good period of time, before realising we needed to to head off to our respective gates. I thanked him for talking to me and he reciprocated, saying this was the first time he had spoken in person to a stranger for so long and what a joy it was. We both learnt something about each other's life we could take away with us. I now know much more about US banks in Europe and he more about human-centred design.
The flight was over in a jiffy. After the plane had landed, my journey out of the brand-new airport (I barely noticed it as it was dark) was smooth, effortless and fast. Straight through security, no queue at the taxi rank, roads empty, and another super slick check-in at my hotel.  Hassle-free travel. My room was weirdly modern with a sofa that looked like a green vegetable on steroids. The next morning, I enjoyed the delights of an over-flowing buffet with a sculpted watermelon on show. I felt like a child in a sweet shop.
I gave my keynote in a small loft room to a group of seated students and faculty. To begin, I focused on 2 or 3 smiling student faces (always helps to calm the nerves) and enjoyed the occasion flexing my full body while flailing my arms. The talk was also relayed via Zoom to other students who were sat in another building (German universities have strict guidelines on the number of people allowed in the same room). It seemed to work although I could not see any of the remote audiences. One remote student asked a question at the end which I had to repeat so those in the loft so they could hear. Later in the evening at the reception, the student who had asked the question revealed herself and told me all about her PhD journey originating in Mexico, via the USA, Germany and ending up in the UK. She was full of joie de vivre.